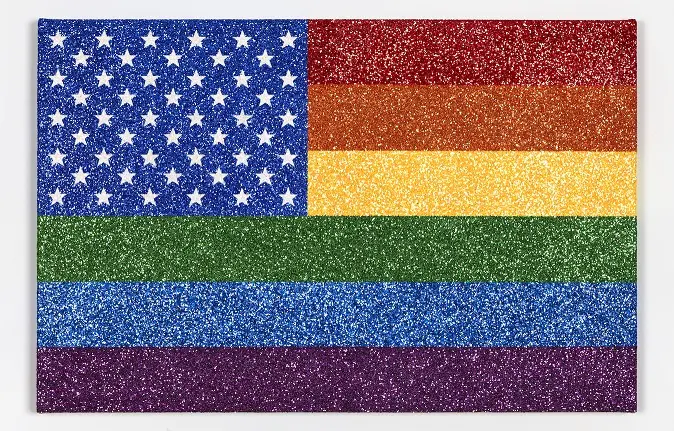 EXHIBITION EXTENDED THROUGH 2023
The Future Will Follow the Past: An Exhibition by Jonathan Horowitz explores the transformative changes America has experienced since 2020 and addresses antisemitism, racial violence, immigration, women's rights, LGBTQ+ rights, and more. It offers new perspectives on history and raises – but does not answer – questions related to themes, ideas, and events found in The Weitzman's core exhibition, which interprets over 360 years of American Jewish life.
Learn more about the artist and exhibition below.
Are you unable to visit us in person, or do you want to dive deeper? Enjoy the audio tour of the special exhibition from wherever you are!
Scan the QR code for access to the full tour featuring audio commentary from the artist Jonathan Horowitz, Erica Brown, Vice Provost and Inaugural Director of Sacks-Herenstein Center for Values and Leadership at Yeshiva University, and one of the Museum's founding historians Beth Wenger, Associate Dean for Graduate Studies/Moritz and Josephine Berg Professor of History.
In the meantime, check out these audio highlights:
Audio Tour Stop #10: Pink Curve
More about the exhibition: 
Horowitz, an artist known for incorporating social issues into his practice, has designed a series of installations that include key works from his oeuvre and significant works by renowned artists across generations. In addition to Horowitz, artists featured include Adrian Piper, Ben Shahn, Tabboo!, Jenny Holzer, Elizabeth Catlett, Collier Schorr, Aya Brown, Malaquías Montoya, and Nicholas Galanin. An installation of commissioned posters by contemporary artists will include works by Lynn Hershman Leeson, Christine Sun Kim, Jeffrey Gibson, Kim Gordon and Jason Smith, Sable Elyse Smith, and many others.
Works from the Exhibition include:
Horowitz's large-scale "Untitled (August 23, 2017–February 18, 2018, Charlottesville, VA)" depicts the statue of Confederate general Robert E. Lee as it appeared covered by a black tarp after August 2017's violent "Unite the Right" rally in Charlottesville, Virginia.
Malaquías Montoya's "Cristobal Colón" lithograph addresses colonialism's devastating impact on Indigenous peoples.
Horowitz's "Pink Curve" is a hybrid of an Elsworth Kelly sculpture and the badge that homosexual men were forced to wear in Nazi Germany.
Tabboo!'s "Tree of Life" memorialize the victims of the antisemitic mass shooting that took place at Pittsburgh's Tree of Life synagogue on October 27, 2018, the deadliest attack ever on Jews in the United States.
Horowitz's "Power" replicates the menu of skin tone options for the raised fist emoji.
Three posters by Aya Brown feature intricate drawings of Black female essential workers. These were initially installed on bus shelters throughout Brooklyn, New York.
Horowitz's glitter painting "Rainbow American Flag for Jasper in the Style of the Artist's Boyfriend" appropriates both the work of Jasper Johns and that of Horowitz's partner, Rob Pruitt, who is known for his glitter paintings of panda bears.
"The Future Will Follow The Past builds on the Museum's practice of inviting artists and creatives to reflect on and reinterpret our content," said Dr. Josh Perelman, Chief Curator and Director of Exhibitions and Interpretation, who has overseen the three major reopening exhibitions and installations. "Like The Weitzman itself, Horowitz's installations emphasize how the story of Jewish life in America can serve as a starting point for exploring our connections and differences, participating in dialogue and debate, and sharing our lives and our dreams."
As a "visual commentary," Horowitz's installations engage with the core exhibition's major themes – including immigration and adaptation, tradition and change, and advocacy and service – and respond to the current intensification of xenophobia, racism, antisemitism, and other forms of bigotry. Relevant, reflective, and surprising, they bring fresh, new layers of meaning to the experience of museum goers. Visitors will encounter them throughout the Museum, and each floor includes at least one large-scale work.
Several works from Horowitz's "We Fight to Build a Free World" exhibition at New York's Jewish Museum, originally scheduled to open in March 2020, are also part of this exhibition. Horowitz is creating new work about voting rights for the exhibition and new editions of his signature pieces, "Power" and "Pink Curve."
Media inquiries: mediarelations@theweitzman.org
Header image: Rainbow American Flag for Jasper in the Style of the Artist's Boyfriend, 2013, © Jonathan Horowitz, courtesy Sadie Coles HQ, photo by Thomas Müller
Audio Tour Images: Pink Curve, Jonathan Horowitz, 2010,  Courtesy of the artist and The Brant Foundation, Greenwich, CT. Note: the work presented here is a replica of the original. Photo by Robert Hakalski. Untitled (August 23, 2017–February 18, 2018, Charlottesville, VA), Jonathan Horowitz, 2020, Courtesy of the artist Sadie Coles HQ and Xavier Hufkens. Photo by Robert Hakalski