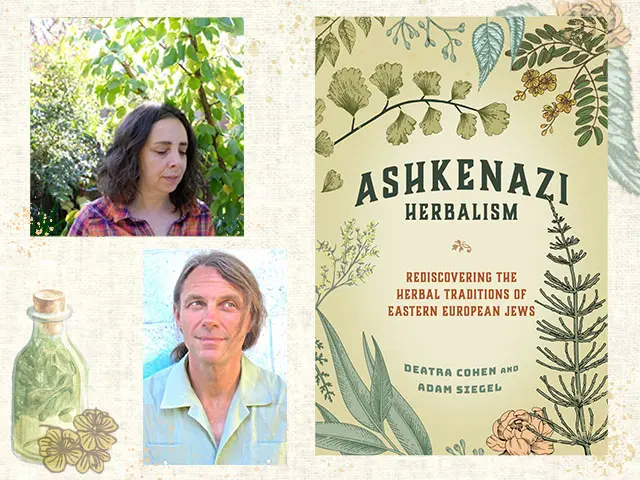 Beyond Chicken Soup: Ashkenazi Herbalism with Deatra Cohen and Adam Siegel
Wednesday, Oct 19, 2022
Wednesday, October 19, 2022
Doors at 6:30 pm, Event at 7:00 pm ET
In person at The Weitzman in Philadelphia
$18 / $13 Members – Click Here
Unearth the history of Ashkenazi folk medicine with herbalists Deatra Cohen and Adam Siegel as they discuss their new book entitled, "Ashkenazi Herbalism: Rediscovering the Herbal Traditions of Eastern European Jews." Just days after the Jewish harvest festival of Sukkot and weeks after the end of a Shmita (rest for the land) year, this event will surely inspire ideas for the fall garden harvest and sew new ideas for gardeners planning the year to come.
About the Book
When faced with the reality that the natural medicine practices of her Jewish ancestors had been erased by war like most documentation of European Jewry, Cohen, a clinical herbalist and research librarian, took it upon herself to piece back together the history of Ashkenazi healers. With the help of Siegel, a research librarian and literary translator, the two were able to uncover European Jewish medicinal traditions that go beyond today's ever present "chicken soup" theory. Cohen and Siegel turn back time to explore the vast treatments within Eastern Europe's Pale of Settlement herbal tradition that from the Middle Ages through today has been shrouded in mystery. Join us for this conversation to talk about the native plants, practices and practitioners that brought infamy to the Jewish medicinal plant healers of Eastern Europe.
About the Authors
Deatra Cohen is a research librarian and clinical herbalist, having trained with the Berkeley (formerly Ohlone) Herbal Center in Berkeley, California. She is a member of a Western Clinical Herbal collective, and holds the title of Master Gardener at the University of California.
Adam Siegel is a research librarian at the University of California, Davis, and a historian of Central and Eastern Europe, specializing in issues concerning cultural contact and plant knowledge. Siegel was awarded a National Endowment for the Arts Literary Translation Fellowship in 2014 for his work as a literary translator, having translated works from Russian, Czech, German, Croatian, Serbian, French, Italian, Swedish, and Norwegian. He reviewed and translated literature and scholarship in Yiddish, Ukrainian, Russian, German, Polish, and Hebrew for "Ashkenazi Herbalism: Rediscovering the Herbal Traditions of Eastern European Jews."
Purchase a Signed Copy Today
Interested in purchasing a copy of the book signed by the author for yourself or as a gift? Visit our online Museum Store and order your copy today – Click Here.
Safety / Covid 19:
*This event will occur in the DELL THEATER CONCOURSE LEVEL.
Masking in the auditorium is mandatory.
---
Live at The Weitzman
101 South Independence Mall East (Corner of 5th & Market)
Philadelphia, PA 19106